MEE KOLOK
Ingredients
Base Shallot oil:
8 shallots
1 cup of vegetable oil
Slice the shallots up thinly and chop them up slightly. Wet it with some water. Turn on the fire and heat up oil only very slightly before quickly placing the wetted shallots in. This way shallots will not be burnt before they could release their fragrance. Let the shallots simmer in warm oil till fragrance are released. Turn up heat right before you dish out to cook the shallot golden brown.
Shallots will continue cooking even after taking them off the fire, so dont brown it too much. You can separate oil with shallots for storage or if you are using it soon, they can be kept together in one container. Set aside for later use.
Seasoning (for 5 servings)
* 3 teaspoons of fish sauce
* 1/3 teaspoon of salt
* 1 teaspoon of light soya sauce
* 1/3 teaspoon of monosodium glutamate
* 1 tbsp of chicken stock powder (optional)
* 2 tbsp of oil from fried shallot
* a couple of dashes of white pepper powder
* 3 pieces of instant noodles
* 100 grammes of minced beef or chicken
* 1/2 bulb of garlic (finely chopped)
* spring onions for garnishing (chopped finely)
* 6 tablespoons of palm oil
Marinade (for minced beef or chicken meat for at least 1 hour)
* 2 teaspoons of fish sauce
* 1 teaspoon of light soya sauce
* a couple of dashes of white pepper powder
* 1 teaspoon of corn flour / potato flour
Instructions
1.Heat oil in wok using medium high heat. Fry garlic till golden brown. Remove fried garlic and set aside.
2.Scoop up oil into a bowl leaving about 2 tablespoons of oil remaining in the wok. Increase heat to high and stir fry minced beef/chicken till completely cooked (about 2 minutes). Sprinkle some water whilst stir frying to prevent burning. The minced meat should be just moist after cooking and not soaking in gravy. Remove cooked minced meat and set aside.
3.Bring a pot of water to boil. Add instant noodles and cook till almost done. Remove noodles from pot using a net or colander and run it through cold or tap water. Return noodles to boiling water to heat it up again and thereafter, drain the noodles after 30 seconds. Set aside
4.In a large bowl, add all the seasoning (2 tbsp oil from fried shallot ,chicken stock, fish sauce, light soya sauce, salt, MSG, white pepper ) and stir well. Add cooked instant noodles and stir till evenly coated by the seasoning. Separate the noodles onto three serving plates. Add some cooked minced meat and garnish with fried garlic and spring onions.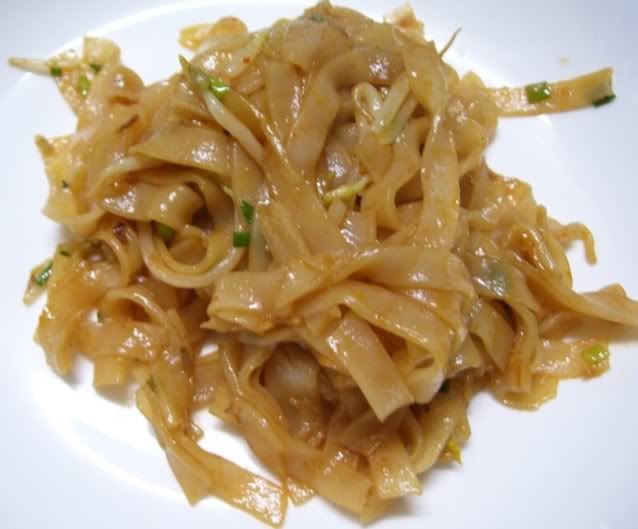 KWAY TIAW KOLOK
Another version :-
To make one bowl of mee kolok as a main meal:
2 tbsp of shallot oil, with or without shallots
1 tbsp of fish sauce, instead of msg
1 tbsp of light soya sauce
1tbsp of dark vineger (latest trend in Kuching, optional)
1/2 to 1 tbsp of dark soya sauce (optional for colour)
1 tbsp of chilli sauce (optional if you like it slightly spicy)
Sprinkle of pepper
150gm of curly noodles/Kampua noodles (about 4 portions for 500gm of curly noodles)
pickled chillis
Toppings suggestions:
Chicken meat
soya sauce
fish or prawn balls, placed in boiling water
Large prawns, cleaned and sliced halves and pan fry with salt and pepper or just boiled with water.
1) Prepare the bowl with shallot oil, fish sauce and light soya.
2) Prepare toppings and side aside.
3) Heat a bowl of boiling water and place noodle in water, stirring all the time with a pair of chopsticks to loosen the noodles till cooked about 1 min or so. Dish out and quickly dunk into the pot of room temperature water. Dip it back into the boiling water for a few seconds. Strain to dry. And toss noodles in the bowl of sauce.
4) Place toppings on and sprinkle slightly with pepper and top with spring onion or crispy shallots. Serve with pickled chillis and a bowl of vegie soup.
enjoy it