sebenar nya banyak yang makcik nak luah kan kat sini hari ini tapi macam tak sesuai jer makcik rasa. apa apa pun makcik bersyukur makcik masih lagi bernafas, masih lagi bertahan despite apa yang orang fikirkan tentang makcik dan keluarga makcik. alhamdulilah masih ada yang nak bertanya kabar ~ samada ikhlas atau sebalik nya..terima kasih ALLAH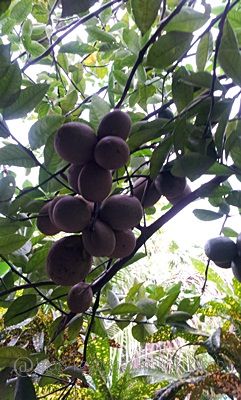 my stock untuk bulan ini..pokok lemon sedang mengeluarkan hasil. syukur alhamdulilah, tak membeli lemon lah untuk sebulan ini. yes kalau kat rumah makcik consume lemon 4-6 biji sehari untuk juicing.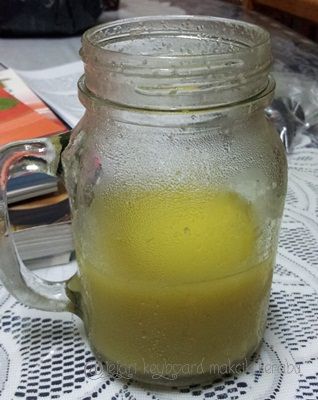 sharing my juicing malam ini..2 lemon, 6 garlic, 1 inch ginger and 4 stalk celery..pengsan nak menghabiskan
nya, terlebih garlic tapi sayang nak buang, at last dapat juga makcik habiskan nya. minum dengan mata tertutup rapat. aisehhh...berbau bawang putih lah makcik malam ini.
Agak lama juga lah makcik tak makan bingka hatta membuat nya. jadi misi terlebih rajin hari ini adalah membuat bingka durian benda yang paling senang nak buat ketika sedang mengemas kini dan ketika misi throwing in the dustbin sebelum encik somi balik rumah. (tips: pastikan dapur dan peti sejuk didalam keadaan kemas dan bersih sebelum our roomate balik dari travelling)
Jumpa akak durian didalam freezer, ada banyak epal dan juga carrot didalam peti sejuk. nampak nya minggu ini makcik kena buat sesuatu dengan cik epal dan cik carrot kita tu,
oh ya..this weekend I'm sending my father ke kuching for his birthday pressie, sponsor tiket untuk dia sekali dengan mak & syafiq sempena perlawanan bola antara pahang dan sarawak. I think this is the first time my father tengok bola secara live kat stadium. Harijadi yang ke 66 ~ yeah untuk mu bapa..tak apa lah..He demand for kek bertingkat tingkat sempena harijadi yang ke 66..pengsan makcik nak mengadakan kek bertingkat tingkat itu so sending him to kuching for the match~ pilihan yang terbaik.. hehehe.
3 orang akan menyambut birthday weekend ini. my father, my sister and anak buah...3 kek..3 hadiah..waduh..peninnnnnn
next week plak makcik akan melawat kawasan. nak balik kuching sekejap before heading kl untuk bercuti . Banyak wedding invitation untuk bulan duabelas ini. November dan December will be bulan terlebih baget lagi nampak nya. Waduh waduh. frens are having holiday oversea, makcik dok in the country jer.
another thing, dillah have to see pakar ENT lagi, makcik harap anak bujang makcik sorang ini dapat jaga kesihatan dia dengan baik. Hati makcik rasa sedih bila tengok muka dia tido. dengan pernafasan yang tak lancar itu its really broke my heart. sob..sob..sob..:(
Let not talk abt it.. mari kita bercerita tentang bingka..kuih muih orang dahulu kala.makcik suka bingka labu, bingka timun is also not bad. wangi jer bau timun tu..bingka ubi kayu pun my faveret..alalallalala..asal sebut makan jer semua suka kan..no wonder lah makcik nih..tak reti nak kurus.
makcik suka bingka yang lembik lembik gitu..this is the perfect combination pandan dan rasa durian.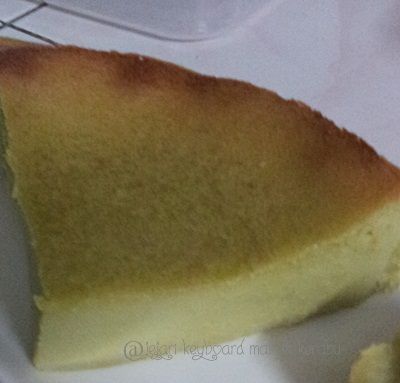 Bingka durian ~ menghabiskan stock durian didalam peti sejuk
ini lah resipi nya..sangat mudah
Bahan-bahan (kalau tak ramai orang boleh jer buat setengah adunan)
4 1/2 cawan tepung gandum (kalau nak keras sikit letak 5 cawan)

6 cawan santan (santan kotak - 4 cawan dicampur dengan 2 cawan air pandan yang di blend/tapis atau kalau tak nak guna daun pandan guna jer air biasa

250gm atau 2 cawan isi durian

3 sudu mentega

Garam secukup rasa

1 1/2 cawan gula (kalau nak manis jadikan letak jer 2 cawan)

6 biji telur

nak letak pewarna hijau pun ok tapi makcik tak letak
Cara-cara
Campurkan kesemua bahan. Kacau sebati kemudian ditapis. makcik masuk kan semuanya didalam blender.
Griskan acuan dengan sedikit butter atau minyak .Masukkan adunan kedalam acuan.
Bakar selama 1 jam atau sehingga masak. makcik suka bingka yang ada berkerak sikit.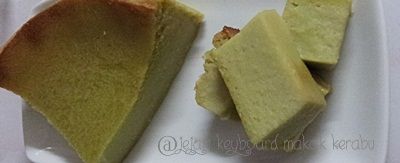 makcik suka sangat dengan texture nya..almaklumlah kan dah lama tak makan kuih camgini..
ini plak bingka tepung beras yang makcik buat terjun jer..ala ala capai apa saja yang kat depan mata gitu
BINGKA TEPUNG BERAS
1 cawan tepung gandum (kalau tak nak letak tepung gandum - boleh jer letak 3 cawan tepung beras)
Kisar semua bahan didalam blender...sangat mudah kan..tekan suis jer pastu dah sebati masukkan kedalam loyang yang telah di gris kan. bakar didalam ketuhar yang telah di panaskan terlebih dahulu. bakar sehingga masak. Sejukkan dan potong.