SIMPLE YET SO NICE. YOU CAN OMIT THE TOPPING .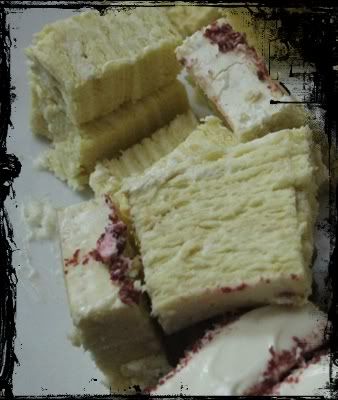 500GM PHILLYDEPHIA CHEESE CREAM
250GM BUTTER
4 X 200GM SALTED CHEESE BISCUIT
2 X 179GM NESTLE CREAM
1/2 CUP SUGAR
150GM WHIPPING CREAM
150GM FRESH MILK
MIX CHEESE CREAM, BUTTER AND SUGAR TILL CREAMY . ADD IN NESTLE CREAM, WHIPPING CREAM AND FRESH MILK. MIXED WELL TILL LIGHT /FLUFFY.
SPREAD CHEESE CREAM IN PAN (ALTERNATIVE : ALUMINIUM FOIL OR USING PLASTIC SHEET )ARRANGE SALTED CHEESE BISCUIT. (REPEAT ON EACH LAYER)
CHILL FOR 2 HOURS OR MORE (PREFERABLE OVERNIGHT)
FOR TOPPING:
1/4 CUP COCOA POWDER
1/4 TSP SALT
388G, SWEETENED CONDENSED MILK
125GM BUTTER
CHOPPED ALMOND NUTS
MIX COCOA, SALT, CONDENSED MILK AND BUTTER . MELT USING DOUBLE BOIL, CONTINOUSLY STIRRING UNTIL THICKENED. COOL COCOA MIXTURE, POUR INTO CAKES. SPRINKLE WITH CHOPPED NUT.
OR U CAN USE GANACHE TOPPING
450GM COOKING CHOCOLATE
300GM WHIPPING CREAM
DOUBLE BOIL..COOL SLIGHTLY BEFORE LAYERING THE CAKE. SPRINKLE WITH NUTS