assalamualaikum..macam lama jer tak hapdate site makcik nih..sebenarnya angin kemalasan melanda..lagi lah dengan budak budak yang ada kat rumah dan dengan line yang tak semengah . oh ya...tadi kan masa makan tembikai boleh plak tersedak sedak..agak agak ada yang rindu tak...kekekeke..jom kita buat kek cheese plak. actually kek ini makcik buat time raya haji lepas..cuma tak kesempatan nak menempek kat sini. Please enjoy it sebab ia sangat sedap.
BAKED PEACH YOGURT CHEESE CAKE – credit alex goh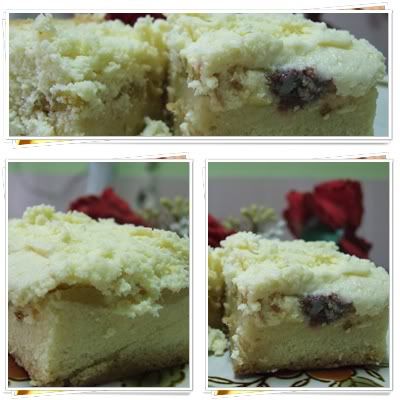 SPONGE CAKE
A)
160gm sugar
15gm ovallate
B)
5 eggs
125gm flour
1 tsp baking powder
C)
40ml water
D)
75g melted butter
1 tsp vanilla
Method:-
POUR A INTO THE MIXING BOWL AND MIX WELL
ADD B AND WHIP TILL THICK
STIR IN C IN B
WHIP THE BATTER TILL LIGHT AND FLUFFY
PUT IN D AND MIX WELL BLENDED. POUR IN 9" SQUARE PAN AND BAKE FOR 30 MINUTE OR TILL COOK AT 180 C. WHEN BAKED REMOVE CAKE IMMEDIATELY FROM PAN
For chocolate sponge cake – mix 2 tbsp of cocoa powder with 40ml of water to form a paste. Then add it into the cake batter. Mix till well blended
FILLING: ( cream cheese filling)
A)
500GM CREAM CHEESE
50G SUGAR
50G BUTTER
B)
50G FLOUR
C)
1 EGG
3 EGG YOLKS
D) 150G YOGURT
E)
3 EGG WHITES
70G SUGAR
PINCH OF SALT
F)
300GM PEACHES CUT INTO SLICES
METHOD:-
CREAM A TILL LIGHT AND FLUFFY
ADD B AND MIX TILL WELL BLENDED
ADD C AND CREAM TILL SMOOTH
ADD D AND MIX TILL WELL COMBINED
WHIP E TILL STIFF. MIX WITH THE ABOVE BATTER TILL WELL INCORPORATED.
PLACE THE THIN LAYER OF VANILLA SPONGE CAKE INTO A 9 SQUARE PAN THEN PLACE THE PEACH SLICES ON TOP.
POUR THE CHEESE BATTER ON TOP. BAKE AT 160c IN WATER BATH FOR 60 MINUTES. SERVE.
You can substitute peaches with blueberry or kiwi or passionfruit. (am addicted with passion fruit filling  )