tiada ayat..speechless..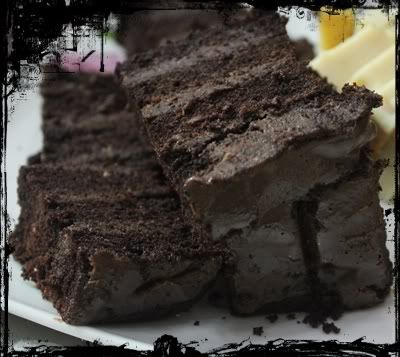 Source-Cake: AllRecipes
Makes 9" round
INGREDIENTS:
1 cup Cocoa
1 cup Boiling Water
1 cup Butter - softened
2½ cup Sugar
4 Eggs
2 tsp Vanilla Essence
3 cup Cake Flour*
2 tsp Baking Soda*
1 tsp Baking Powder*
½ tsp Salt* (* sifted together)
1 cup / 8 oz Sour Cream (I used 250g packet)
METHOD:
1. Dissolve cocoa & boiling water.
2. Cream butter & sugar until light.
Add in Vanilla Essence and egg, one a time while beating until well mixed.Fold in flour and sour cream alternately, beating well after each addition.Lastly, add in cocoa mixture.
3. Bake 170C for 1 hour until cooked when tested with skewer..
4. Unmould after 10min and cool completely before slicing then layer/spread with chocolate ganache.
CHOCOLATE GANACHE:
450g Chocolate - chopped
300g Cream
- Place both in a pot & cook small fire until chocolate melt. Cool slightly before layering cake & spreading on top.