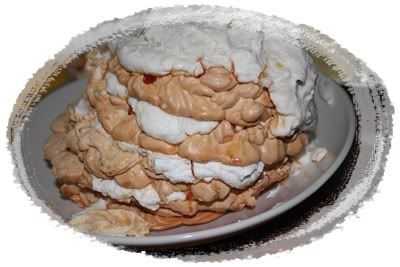 another one..and yes...berkilo kilo naik mencanak.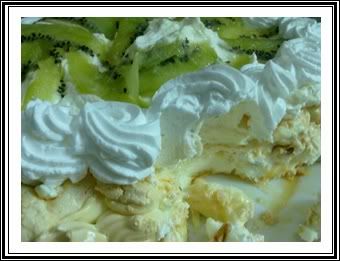 with passion fruit filling
250gm passion fruit flesh
100gm sugar
100gm water
100gm cornflour
150gm whipping cream
place passion fruit flesh, water, sugar and cornflour. mix well. cook over low heat till sugar dissolved, stir sauce constantly and bring to boil. cool/chill
add passionfruit sauce and whipping cream . beat light /fluffy. cream /layer pavlova and serve.
with lemon filling
2/3 cup sugar or less
6 tbsp cornflour
1/8 tsp salt
1 1/2 cup water
1 egg yolk
1 tbsp butter
1 tbsp lemon zest
1/2 cup fresh lemon juice
1/2 cup whipping cream
mix sugar n egg yolk. beaten lightly
add in cornstarch flour, salt and water. cook - low heat or double boil till thickened. add in butter and zest of lemon rind. make sure its is not sweet . add in lemon juice. cool- chill .
beat whipping cream and lemon filling till light and fluffy. ready for use