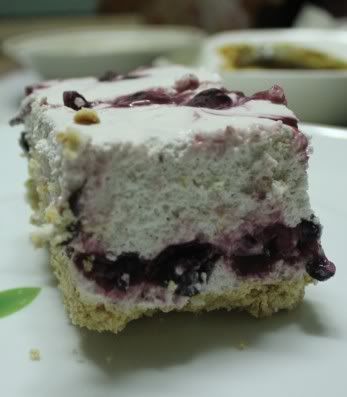 this one plak makcik buat semata mata untuk menunggu anak makcik yang balik untuk cuti semester dari sinun. eh..tak ada makna nya dia nak makan satu biji besar kan..so end of the day makcik juga lah jadi vaccum cleaner nya.
BLUEBERRY CHESSY CAKE
Ingredient A
BASE
120G Digestive biscuits – crushed (biscuit marie)
50g butter
Ingredient B
500g cream cheese
100g evaporated milk
50g blueberry yogurt
Ingredient C
½ lemon juice
Ingredient D
4 tbsp gelatin powder ( or you can use agar agar powder)
6 tbsp hot water
Mix well with gelatin
Ingredient E
200g whipping Cream
Ingredient F
Some amount of blueberry filling
Method:-
Combine crushed biscuit and melted butter and press it hard onto a 8" cake mould. Place it in fridge. Set aside
Beat cream cheese and put in evaporated milk. Beat well . add in yogurt. Beat till fluffy. Add in C. Stir well. Add in D. Fold in E and beat well.
Pour ½ of the mixture onto chilled biscuit base. Layered it with blueberry filling and cover it with the remaining mixture. Chill the cake in the fridge for about 4 hours or till set.
sila lah buat iyer , senang sesangat. the taste..ada masam masam sikit. sebab makcik nih tak berapa suka makan manis . kalau yang sweet tooth tu taruh lah sikit gula (dalam 30gm - but not more to 100gm) nanti terlampau manis sebab filling blueberry tu pon dah manis .