RESIPI YANG PALING MUDAH DAN TAK AKAN PERNAH GAGAL WALAUPUN UNTUK BEGINNER. TRY LAH.
INI RESIPI DARI PADA ALEX GOH.
gambar tak memuaskan tapi sedap .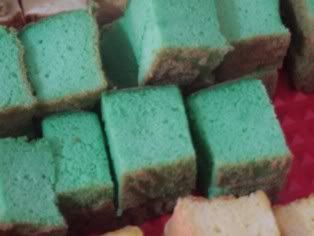 KEK SPONGE
A)
160G SUGAR
15G CAKE EMULSIFIER ( OVALLATE)
B)
5 EGG
125G FLOUR
1 TBSP BAKING POWDER
C) 40ML WATER
D) 75G MELTED BUTTER
METHOD:-
POUR (A) INTO THE MIXING BOWL AND MIX WELL
ADD (B) AND WHIP TILL THICK
STIR IN (C) WITH THE BATTER
WHIP THE BATTER TILL LIGHT AND FLUFFY
MIX (D) TILL WELL BLENDED
ADD IN FLAVOUR AS DESIRED (PANDAN, CHOCOLATE, ORANGE ETC). POUR IT INTO A 9"ROUND MOULD. BAKE AT 180c FOR 30 MINUTES. WHEN BAKED REMOVE CAKE IMMEDIATELY FROM THE MOULD.
TUANG (A) KE DALAM MANGKUK PENGADUN DAN PUKUL HINGGA SEBATI. CAMPUR (B) DAN PUKUL SEHINGGA PEKAT. MASUKKAN (C) KEDALAM ADUNAN TADI. PUKUL ADUNAN SEHINGGA LEMBUT DAN GEBU. GAUL (D) DAN ADUN HINGGA SEBATI.TAMBAHKAN PERISA YANG DI INGINKAN SEPERTI COKLAT, ORANGE, PANDAN ATAU LAIN LAIN. TUANG KEDALAM ACUAN BULAT BERUKURAN 9". BAKAR PADA SUHU 180c SELAMA 30 MINIT. SETELAH DI BAKAR, KELUAR KAN KEK DARIPADA ACUAN SERTA MERTA