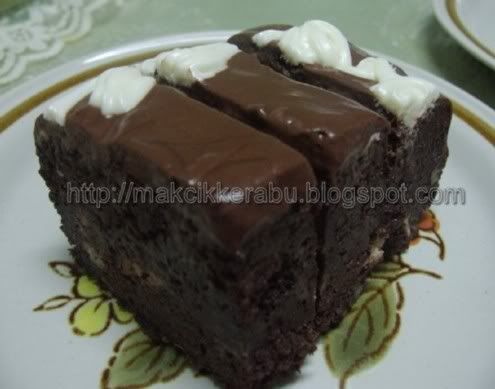 Double Decker Mint Chocolate Cake By: Anna Olson
Ingredients:
For Cake:
260 gm water
100 gm process cocoa powder, sifted
100gm bittersweet chocolate, chopped
250gm sour cream
1 Tbsp vanilla extract
2 tsp*peppermint extract
300gm unsalted butter, room temperature
200gm sugar
50gm golden brown sugar, packed
5 eggs
300gm all purpose flour
2 ½ tsp baking soda
1 tsp salt
For Frosting:
1 cup unsalted butter 1/4 cup cocoa powder, sifted
5 Tbsp milk 3 cups icing sugar, sifted
2 tsp vanilla extract
Method:
1. Preheat oven to 350° F and butter and sugar two 9-inch cake pans. Whisk water, cocoa powder and chocolate over low heat until chocolate is melted. Allow to cool to room temperature. Combine sour cream, vanilla and peppermint extract and whisk into cooled chocolate mixture. Cream butter and sugars together until fluffy and pale. Add eggs, one at a time, beating well after each addition. Sift together flour, baking soda and salt and add to butter mixture alternately with chocolate mixture. Scrape and spread into prepared pans and bake for 50 to minutes, until a tester inserted in the center of the cake comes out clean. Allow to cool.
2. While cake is cooling, prepare frosting. Heat butter, cocoa and milk together until smooth and shiny. Remove from heat and stir in icing sugar and vanilla, and beat until smooth.
3. To assemble, place first cake on a plate, and trim top to level, if needed. Spread with frosting. Place second cake on first and frost top and sides.