weekend yang tak di rancang.. kawan kawan "fondant" makcik datang lepaking..and kebetulan ada pisang yang bapa tebang semalam ~ masak kat pokok..dan kebetulan mengidam nak makan jemput pisang..dan rezeki yang datang..kak ina panggilan makcik pada tukang masak seorang ini..dengan rela paksa buat jemput pisang kat dapur tak semengah makcik.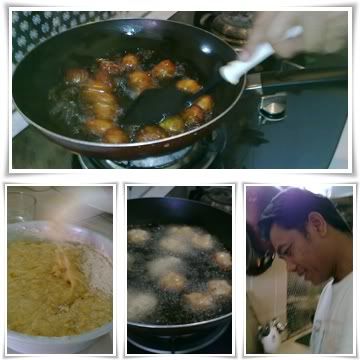 then kita orang minum petang kat luar..sambil sambil kak bibi mengunting rambut kak ina.. hehehe...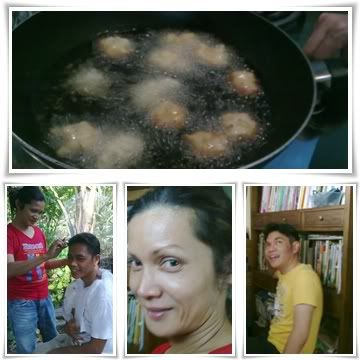 u ols...hari ini baru makcik makan jemput pisang yang sedap
the resipi..
pisang yang dah lalu masak
1 sudu bicarbonate of soda
tepung dalam 2 gelas
sedikit gula
air panas mengelegak
pisang + gula di lenyek sambil hancur. kak ina guna bontot gelas tu melenyek pisang tu..
then masukkan bicarbonate of soda.. then letak tepung ..anggaran 2 gelas ..pastu masuk kan air panas mengelegak..secukup nya.. - anggaran 1 gelas.. tak mau lembik sangat ok..
then goreng..dalam minyak penuh..yang panas..
kena jemput dengan tangan untuk buat ia jadi bebola..then dalam kuali tu kena 'urut' supaya membentuk jadi bulat.