Assalamualaikum, lama gak tak menghapdet blog ini, baru hari ini ada masa duduk di depan computer.Banyak kerja nak di buat tu pon baru habis mengemas rumah, kat luar rumah belom lagi dapat sentuhan.. tu belum lagi nak check and recheck untuk menu wedding yang akan datang. My adik wedding ok..bukan wedding yang di angan kan oleh puteri lilin itiew, give me degree and master and u can kahwin. (take my advice, guna otak , akal dan fikiran jangan ikut suka suka saja because u can hancurkan kehidupan sendiri) enuff membebel..rezeki pon kurang nak masuk plak pepagi ini. Pagi ini makcik bersarapan roti. sedap u ols..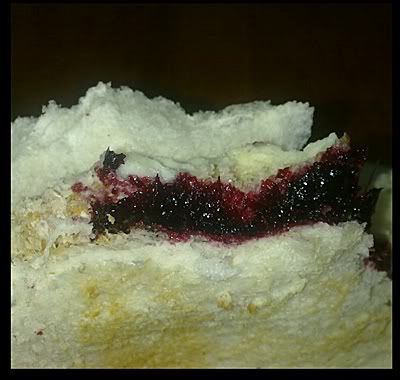 Toast Bread bersama sapuan jem roselle buatan sendiri dan sekeping cheese..perghhh..kenyanggg..
2 hari lepas mak menuai buah roselle..dapat lah 2 bakul ini., mak tu memang suka kalau makcik ada kat rumah, ada jer benda yang dia nak suruh kita buat..dan dia order sajer taw..
Rahmat nya hidup orang yang suka bermain tanah, berkebun sebab ada sajer rezeki dari ALLAH. kalau sayuran tu tak payah cakap lah kan..sehingga tak termakan, semalam nak tebang 2 tandan pisang keling, dapat lah sebahagian jiran meraser. tiap tiap kali menuai hasil pon memang orang lain yang meraser sebab yang kat rumah beberapa orang sajer..
dalam malas malas rajin tu kan, nak tak nak kena buat juga lah kan..cakap mak mana boleh bantah kandapat lah jem rosselle ini , Berbekas bekas u ols, adik dapat satu container aiskrim, mak dapat 2 bekas tuk makan makan kalau tetamu datang bertandang kata nya..dan untuk makcik, cukup banyak ini..sebab 2 minggu lagi nak menuai 2nd batch..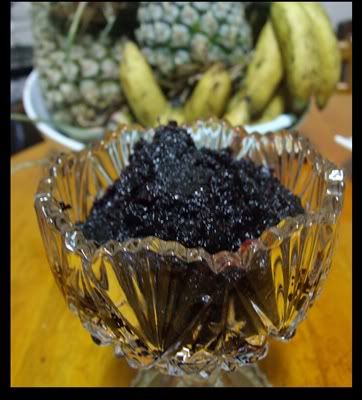 untuk jem kali ini, makcik masak kan gula dulu - Cara nya seperti membuat gula hangus tetapi tidak sampai hangus. Biarkan gula tu merenih ~ mencair putih dan bergelegak atau menjadi gelembung ( how u interprete it ikut bahasa u ols iyer) lepas itu masuk kan rosselle dan gaul rata. Untuk menyenangkan masa dan kehidupan sila lah gunakan kuali non stick..memudahkan segala galanya, dari memasak sehingga mencuci. kalau rasa rasa tak cukup manis boleh tambah gula selepas itu.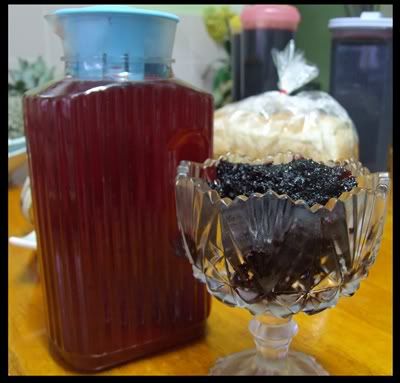 dan air rosselle, blend dapat pati rosselle dan masak dengan gula. next time nak minum boleh campur dengan ais krim soda atau air pandan...untuk kelainan rasanya atau pun minum begitu sajer..kaya dengan vitamin C.
Jemput Minum