tak ingat kat mana dapat resipi ini, for those yang claim ini resipi mereka, credit to them , minta halal iyer...I baked this cake bulan lepas . tuk makan adik adik yang di jemput kat rumah. its nice to try something different ~ the choco thingy ..hmm..kalau bab coklat makcik boleh jadi seorang yang agak berlebih lebih..al maklum lah kan...makcik nih cinta bangat sama coklat.
BAHAN A
400GM TEPUNG GANDUM
1 SUDU KECIL BAKING SODA - DI AYAK BERSAMA
BAHAN B
500GM MENTEGA
350GM GULA KASTOR
2 TSP ESEN VANILLA
5 BIJI TELOR
BAHAN C
350ML SUSU SEGAR
1 SUDU MAKAN CUKA ATAU JUS LEMON - DI CAMPUR BERSAMA
BAHAN D
PERISA BLUEBERRY - UNGU
PERISA STRAWBERRY - MERAH
PERISA PANDAN - HIJAU
PERISA LEMON - KUNING
TOPPING
250GM CREAM CHEESE
80GM GULA AISING
1 SUDU KECIL VANILLA
150GM WHIPPING CREAM
(MAKCIK GANTIKAN DENGAN CHOCOLATE WHIPPING CREAM , SEDIKIT GULA AISING DAN CREAM CHEESE)
CARA MEMBUATNYA:-
PUKUL B SEHINGGA KEMBANG. MASUKKAN TELUR SATU PERSATU. PUKUL SEHINGGA RATA DAN SEBATI. MASUKKAN A DAN C BERSELANG SELI. PUKUL LAGI SEBATI. . ASINGKAN ADUNAN KEPADA 4 BAHAGIAN SEPERTI DI SENARAI DI ATAS. - CAMPURKAN PERISA DAN PEWARNA. GAUL SEBATI. BAKAR DALAM 4 LOYANG YANG SAMA BERASINGAN SEHINGGA MASAK.
UNTUK CREAM:-
PUKUL CREAM CHEESE DAN GULA SEHINGGA LEMBUT DAN SEBATI. MASUKKAN VANILA DAN WHIPPING CREAM SEDIKIT DEMI SEDIKIT SEHINGGA ABIS. PUKUL LAGI SEHINGGA SEBATI. LAPISKAN ADUNAN CREAM CHEESE DENGAN KEK YANG TELAH DI SEJUKKAN TERLEBIH DULU..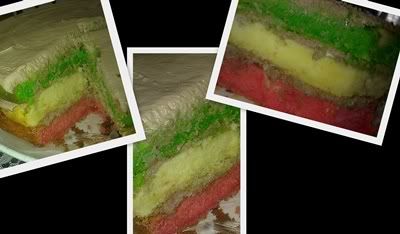 please try..boleh buat bertingkat tingkat if u ols suka..tak perlu ragu..after all untuk makan makan yach