what to do with this durian kalau Cuma ada 3 orang didalam rumah..kan..dah terlampau banyak makan ..say about 10 biji..sampai tak boleh nak tido malam..atau bila nak tido our sleeping patner sempat lagi sendawa…alahaiii sungguh annoying…kan…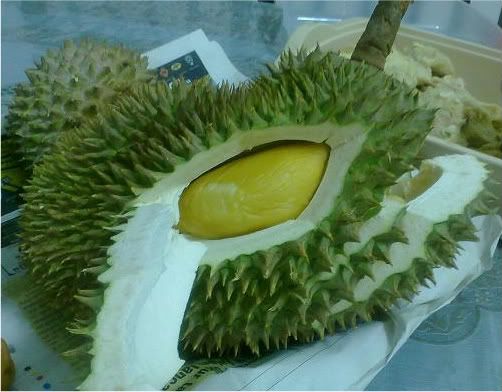 look at this one..whoaaaaaaaaaaa…..am like..huuhuhuhu…no words for this perfect fruit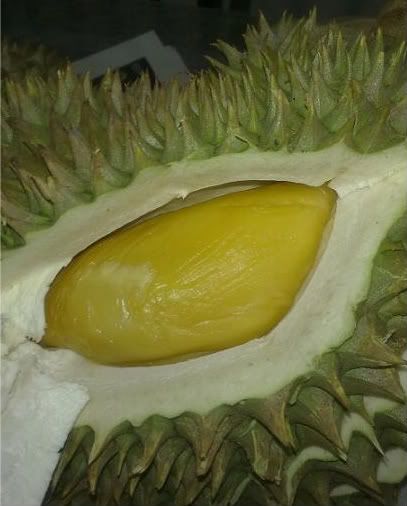 close up ..whoaaaaaaaa...Perfecto
konon nya teringin nak makan cream puff with durian filling…some how my cream puff tak menjadi..sayang nak buang adunan…makcik jadikan ia lempeng..and filling with durian…yummy
and serimuka durian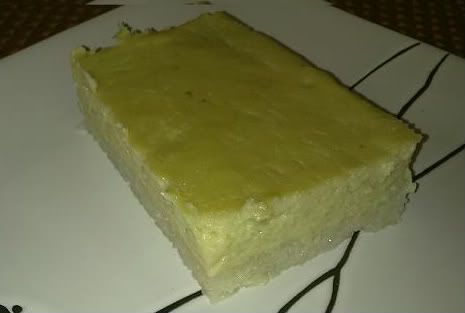 Recipe credit to RIMA
Ingredients
500g glutinous rice - soak for an hr with 1 tsp of alkaline water (i didnt use alkaline water)
1 tsp salt
340ml light coconut milk
screwpine/pandan leaves
1 tsp sugar (i added)
Method
1. Prepare the steamer. Combine glutinous rice, salt, sugar and coconut in a square or round cake pan. Mix well. Place the screwpine/pandan leaves on top of the rice and steam over rapidly boiling water for about 30–35 minutes or until cooked through.
2. Discard pandan leaves. Fluff up the rice, and then press rice firmly down with a banana leaf or aluminum foil until it is compact. Return it to the steamer.
Ingredients
Topping
300g durian flesh
250g sugar
6 eggs (abt 60g each)
60g flour (I added 10g more)
10g sago or corn flour (I used corn flour and added 10g more)
750ml thick coconut milk (i used KARA 350g and add 400ml water)
pinch of salt
a few drops of yellow colouring
Method
Puree durian flesh with 100ml of coconut milk taken fm 750ml of coconut milk - set aside.
Stir eggs and sugar until well combined. Add in sifted flour and slowly add the coconut milk (650ml).
Add in puree durian and continue to stir.
Strain the batter to remove any lumps.
Cook it over low heat till slightly warm... stirring it occasionally so as to avoid any lumpy batter..Scratch the surface of the steam rice lightly with a fork... press em again and prick with fork. Pour in the batter on top of the rice. Steam over medium heat for an hour or until set.Set it aside to cool completely before cutting into serving pieces.
mission complete..yummy..