Steamboat ? sesekali berkumpul memang seronok kan sambil lepak lepak dan berborak. Banyak juga resipi yang makcik cuba dan kredit kepada penyumbang resipi dibawah ini. memang ngam di tekak, keluarga pun suka. Selain soup yang enak sambal nyer juga best..try lah..anda tidak akan kecewa. The gathering untuk steamboat ini adalah pada tahun lepas. Hanya berkesempatan mengupload resipi nya kali ini dek kekangan masa.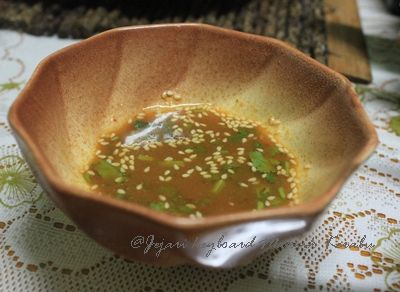 SOS STEAMBOAT ALA JOHNNYS
Bahan-bahan ( byk jugak... )
• cili merah bawang putih
• daun ketumbar gula perang
• gula pasir (gula putih) sos ikan
• minyak bijan cuka
• garam bijan - untuk ditabur dlm sos.
Cara-cara
1. blend cili merah, bawang putih, daun ketumbar, gula perang & gula pasir hingga hancur.
2. setelah bahan tadi siap di blender masukan ke dlm periuk dan masak di atas dapur dengan api yang serdehana.
3. masukan sos ikan dan minyak bijan serta garam. masak sos hingga pekat. setelah sos pekat dan sejuk boleh lah di tabur dgn daun ketumbar yg dicincang halus dan bijan yg telah di goreng tanpa minyak terlebih dahulu. sos ni lagi sedap disimpan semalaman dalam peti sejuk.. sos akan jadi lebih pekat..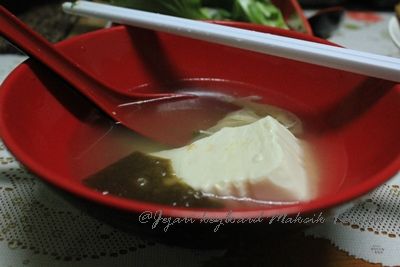 STEAMBOAT ( SOUP AND SOS ) SOURCE: myresepi@kak fida
Bahan-bahan ( 1 famili )
SUP A :- (yang mudah)
• 1/2 kilo tulang ikan atau tulang ayam
• 2 ltr air
• 1 kiub pati ikan bilis atau 1 genggam ikan bilis dikisar
• 3 sk pes bawang putih
• 2 sk pes halia
• garam dan gula secukup rasa
•
Cara-cara
1. Untuk cara2 SUP A :- Rebus tulang2 ikan atau ayam dengan air,dijadikan stok.Setelah mendidih,tapis dan buang semua tulang2.Jerang semula stoknya dan masukkan kesemua bahan2 yang lain dan rebus dengan api sederhana.Tambah air jika kurang dan perasakan lagi dengan garam dan gula secukupnya. SUP A ini akan bertambah sedap setelah dicelur atau dimasukkan bahan2 seperti udang,sotong,bebola ikan dll...
Untuk cara2 SUP B(Korean Style) :-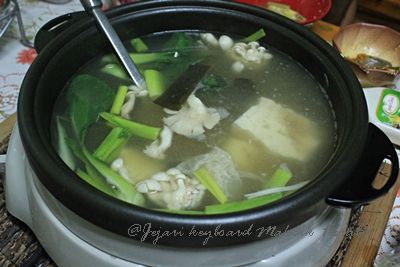 SUP B :- (Korean Style)
200 g kacang soya
1/2 kilo kepak ayam atau tulang ayam
5 ulas bawang putih - diketuk
1/2 jari haliA - diketuk
2 kiub pati ayam
secukup air untuk merebus
agar- agar laut (seaweed) secukupnya
garam,gula secukup RASA
Semua bahan2 kecuali agar2 laut/seaweed direbus dengan secukup air hingga kacang soya kembang,tambah air lagi jika perlu dan masak hingga mendidih.Matikan api dan tapis untuk dijadikan sup.Jerang semula sup dan masukkan agar2 laut/seaweed dan bolehlah dicelur dgn bahan2 steamboat yg telah disediakan.