This is the best recipe makcik dapat, thanks to fiona, budak IG yang makcik kenal dekat 7 tahun dah. alhamdulilah, tak lokek ilmu fiona nih, makcik doakan dia sukses dalam apa jua yang bidang yang dia ceburi. Sekarang dah banyak amik catering. memang masakan dia superb. simple yet so nice. tetiba rindu plak dengan mee soto fifi .as usual bila tengok jer gambar yang dia tepek kat thread di myforum.interaksigosip.com terliur lah plak dek kerana ingatan trip kat melaka masih lagi mengamit rasa. nasib baik fiona agak pantas orang nya, sms tanya resipi cepat jer sms di reply, i lap u fiona.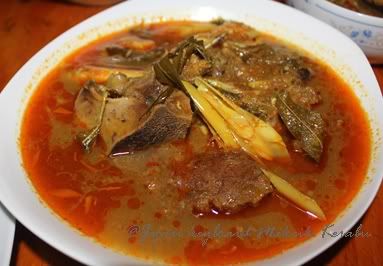 macam ini lah resipi daging masak asam pedas fiona. bahan sungguh simple giler. senang jer nak dapat ramuan nya , cuma kalau dok obersea tu tak bleh lah makcik nak menolong. kena telan air liur dulu yach.
DAGING @ TULANG DAGING - DIREBUS SEHINGGA EMPUK. SIMPAN AIR SUP NYA JUGA
*BAWANG MERAH/PUTIH
*HALIA/SERAI/ SEDIKIT SERBUK KUNYIT @KUNYIT HIDUP
*CILI KERING
* DI BLENDER HALUS KECUALI KALAU MENGUNAKAN SERBUK KUNYIT - DI CAMPUR KEMUDIAN
BUNGA KANTAN DAN DAUN KESOM SECUKUPNYA
BUAH TOMATOES SECUKUPNYA - (MAKCIK TAK MASUK SEBAB TAK ADA STOCK KAT RUMAH)
AIR ASAM JAWA SECUKUPNYA
memula rebus daging sampai empuk, makcik guna bahagian tulang dan juga tetel . rebus sampai lembut dan empuk .
blender bawang merah, putih, halia, serai dan cili kering. bahagian ini agak agak u ols lah berapa banyak bawang nak guna kan. pada pendapat makcik kalau dalam masakan melayu lebih kan sedikit bawang merah dari bawang putih. untuk masakan cina , hanya perlu bawang putih jer.
tumis bahan blender sehingga naik bau dan garing. masuk kan serbuk kunyit sedikit. masuk air asam jawa secukup nya. ikut rasa u ols semua lah..mana yang suka masam, letak lah lebih sikit. yang tak suka masam, letak sikit tapi nama dah asam pedas kenalah masam dan pedas yang kaw kaw
masukkan daging yang sudah di rebus dengan air sup nya sekali. dah mendidih masukkan pula bunga kantan , hirisan tomato (belah 4 atau 6) , daun kesom, garam , gula dan aji jika suka. renih lagi sehingga mendidih dan tutup kan api.
enak banget kalau di makan dengan nasi panas. tak yah lauk lain. yang ini dah perfect. makcik makan dengan nasi putih bersama air budu. waduh waduh..tak larat nak bangun lepas tu.
follow this simple resipi, insyaallah u ols tak akan menyesal. i wonder kalau daging kambing boleh di buat asam pedas camgini.. berbau ker tak iyer?