STORM @ Miri City
30hb october 2012, ketika orang dok sibuk risau kan taufan sandy kat dunia sebelah kita orang kat sini mungkin lah kan..terkena tempias juga lah. Pandangan ini adalah waktu tengahari, this time makcik sedang makan makan kat shukie @ Piasau. Risau dengan keadaan langit macam tu makcik bergegas balik, Macam takut plak tengok awan yang sangat gelap time tu. Tapi sebab makcik dah berniat nak singgah kat masjid, makcik terus kan jer lah niat makcik itu.
PHOTOS CREDITED TO PHOTOGRAPHER/MIRI CITY SHARING CHANNEL /BORNEO POST & BLOGGERS WITH MANY THANKS :)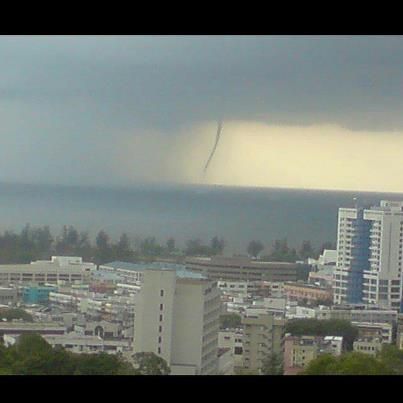 Keluar dari masjid ternampak ini di langit . makcik teringat kan parent makcik kat rumah, dalam bergegas nak balik tu terperangkap dalam hujan ribut angin taufan serta kilat yang kuat. iyer harus lah makcik trauma tahap maximum. dalam doa doa tu sampai juga kat rumah. Fuhhh lega. ALhamdulilah rumah kami tak terjejas.
First time tengok secara live. dekat nak senja dah umur ini..dalam pandangan nampak cantik itu terselit rasa gerun yang teramat sangat. Yang ini Dah dekat pantai dah..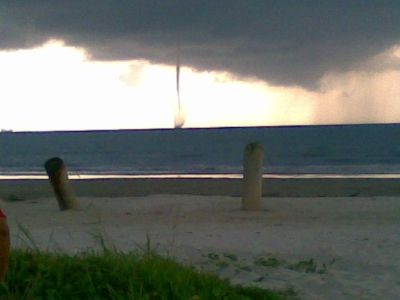 Angin kencang berserta ribut petir. Hujan lebat serta pandangan yang tak jelas bila drive..rasa takut lebih menguasai diri. kat sini makcik rasa cam bebudak plak. rasa mengigil rasa nak menangis pon ader. yes tertiba teringat dosa. especially dosa dosa dengan orang tua, , suami dan orang orang keliling ,mana taw kan kekadang kita ini emosi jer lebih.. sikit sikit maybe terasa lah hati mereka. huhuhu.
Pokok pokok besar start tumbang. Gambar gambar Aftermath ~ Krokop and Pujut Area. maka bergelap lah penduduk kat kawasan pujut sehingga katong pada malam tersebut. Yes masih bernasib baik kerana kawasan kami tak perlu bergelap.
Kawasan Driving school. Mesti trauma bebudak yang tengah belajar memandu time tu
Kawasan penjaja kat area Saberkas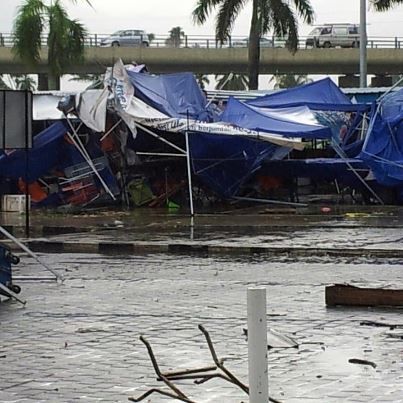 Boulevard. Agak agak yang tengah bershopping time tu mesti ingat bangunan nak runtuh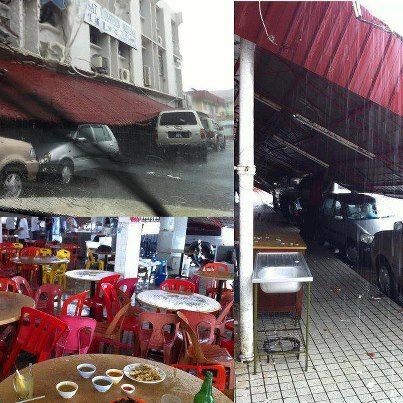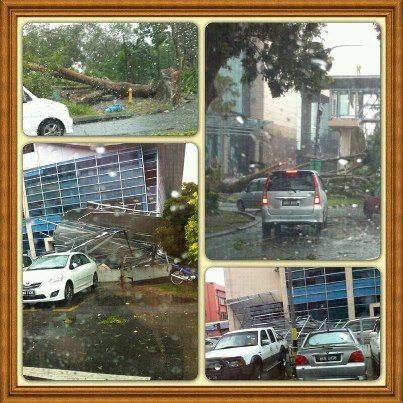 tak boleh bayangkan kemusnahan di New York dan kawasan lain yang terbabit. Ini yang sipi sipi pon rasa cam nak kiamat jer. time tu nanti macam mana lah gamak nya. Subhanallah, Maha Suci ALLAH. sesungguh nya ampunkan lah dosa dosa kami, dosa dosa masa lalu dan dosa dosa kami masa ini. :(
semalam pun ribut kuat berserta hujan lebat dan ya...makcik masih trauma.