Assalamualaikum, pernah tak rasa macam u ols tak nak buat apa apa...just blurred..even u have all the time for yourself. kerja rumah dah siap..semua dah in order yet u ols rasa kebosanan yang teramat..nak buat apa yek..? ok..buat pertama kali nya makcik gie Gym yang kat bawah tu setelah berniat beberapa bulan yang lepas..cuma terlaksana hari ini jer..cuma tak lepas niat swimming jer hari ini. I felt good ,insyaallah esok nak workout lagi.
Semalam puteri lilin balik cuti semester..meriah sakan rumah sekejap with her 11 friends..makcik prepared simple dishes..tak ada lah sedap sangat tapi sebab lapar kan...alhamdulilah laris juga hidangan makcik.. tak sia sia penat lelah dok kat dapur. hari ini pulak her day out ber huha dengan group kelas dia....hmmm...takat kol 8.00 malam nih tak balik lagi dia nih..ishhh...alallalalala
Sebenarnya kek ini sedap tapi kelekaan makcik mencacatkan rupa bentuk nya. :(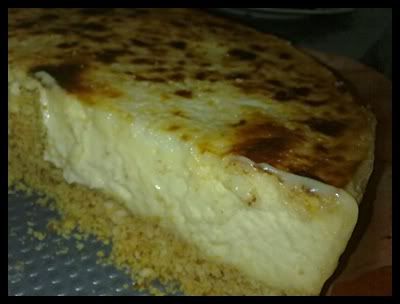 this is the
NEW YORK CHEESE CAKE
- credit to Joy of Baking
Makcik tak ikut sangat resipi ini..makcik guna apa yang ada kat dapur makcik saja. untuk base cheesecake ini makcik guna roti marie (sekotak) tak tengok plak dia punya gram - just tumbuk hancur or blend lepas itu letak butter yang telah di cairkan..untuk butter plak makcik main agak agak jer..asal dah sebati dan mudah di kepal - (jangan rupa macam doh yang padat ..too much butter agak muak plak) dan makcik tak letak gula ok..dah buat tu semua letak lam peti sejuk bagi cik marie kita keras
Crust:
2 cups (200 grams) of graham cracker crumbs or finely crushed Digestive biscuits
1/4 cup (50 grams) granulated white sugar
1/2 cup (114 grams) unsalted butter, melted
Filling:
32 ounces (1 kg) cream cheese, room temperature (use full fat, not reduced or fat free cream cheese)
makcik guna 750 gm TATURA CREAM CHEESE SAJE
1 cup (200 grams) granulated white sugar
3 tablespoons (35 grams) all purpose flour (nak keras sikit letak lam 5 tbsp)
5 large eggs, room temperature
1/3 cup (80 ml) heavy whipping cream (double cream)
1 tablespoon lemon zest
1 teaspoon pure vanilla extract
Topping:
Makcik guna natural yogurt untuk menggantikan sourcream dan letak 3 sudu tepong jagung untuk buat ia nya pekat..dan 1 biji telor ~ pukul yogurt dan gula , masukkan telor - pukul sebati.. masuk tepung jagung dan vanilla..pukul sebati dan rata.. dah masak makcik grillkan kat atasnya sebentar sebab makcik ingat boleh tahan seminggu gitu ...malangnya kek ini sempat bertahan semalam jer....makcik suka...alhamdulilah..projek berjaya
1 cup (240 ml) sour cream (not low fat or fat free)
2 tablespoons (30 grams) granulated white sugar
1/2 teaspoon pure vanilla extract
New York Cheesecake: Grease, or spray with Pam, a 9 inch (23 cm) springform pan. Place the springform pan on a larger baking pan to catch any leakage while the cheesecake is baking. Preheat oven to 350 degrees F (177 degrees C) with rack in center of oven.
For Crust: In a medium sized bowl combine the graham cracker crumbs, sugar, and melted butter. Press the crumbs evenly over the bottom and about 1 inch (2.5 cm) up the sides of the springform pan. Cover and refrigerate while you make the filling.
For Filling: In bowl of your electric mixer place the cream cheese, sugar, and flour. Beat on medium speed until smooth (about 2 minutes), scraping down the bowl as needed. Add the eggs, one at a time, beating well (about 30 seconds) after each addition. Scrape down the sides of the bowl. Add the whipping cream, lemon zest, vanilla extract and beat until incorporated. Remove the crust from the refrigerator and pour in the filling. Place the cheesecake pan on a larger baking pan and place in the oven.
Bake for 15 minutes and then lower the oven temperature to 250 degrees F (120 degrees C) and continue to bake for about another 60 - 90 minutes or until firm and only the center of the cheesecake looks a little wet and wobbly. (The baking time can vary due to the differences in ovens, so make sure to check that the cheesecake is firm with only the center being a little wet and wobbly.) Remove from oven and place on a wire rack.
Meanwhile, in a small bowl combine the sour cream, sugar, and vanilla extract. Spread the topping over the warm cheesecake and return to oven to bake for 15 more minutes. Remove from oven and carefully run a knife or spatula around the inside edge of pan to loosen the cheesecake (helps prevent the surface from cracking as it cools).
Let cool completely before covering with plastic wrap. Refrigerate several hours, preferably overnight. Serve with fresh fruit or fruit sauces.
Makes one - 9 inch (23 cm) cheesecake.
To freeze: Place the cooled cheesecake on a baking pan and freeze, uncovered, until firm. Then wrap in aluminum foil and place in a freezer bag. Seal and return to freezer. Can be frozen for several months. Thaw uncovered cheesecake in the refrigerator overnight.
Tips: Sometimes the surface of the cheesecake cracks. To help prevent this from happening do not over beat the batter, especially when creaming the cheese and sugar.
Another reason for cracking is overbaking the cheesecake. Your cheesecake is done when it is firm but the middle may still look a little wet.
Also, make sure the springform pan is well greased as cracking can occur if the cheesecake sticks to the sides as it cools.
Adapted from: Crownover, Mary. Cheesecake Extraordinaire. McGraw-Hill. New York: 1994.