one thing about duduk kat sini adalah tersangat mewah dengan makanan..buah-buahan terutama nya dan yang paling penting tersangat murah. . Pada kesempatan lepas makcik sempat borong buah plum, pisang kaki dan buah delima yang sebesar muka piring..to me memang besar lah kan..sebab tak pernah lagi melihat buah delima sebesar itu. macam sayang plak nak makan.
dalam tapak tangan pakcik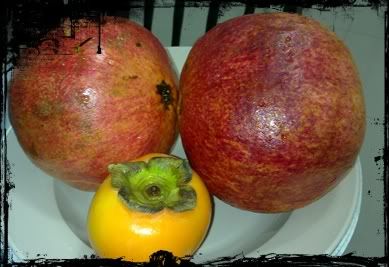 beli 2 - 1 biji 5 hengget - tak ker murah sangat tu..pisang kaki plak dalam 10 henggat@ 16 biji. kalau tempat makcik haram nak dapat harga ini.
plum pula dapat harga 5 hengget @ 14 biji. Terlalu banyak untuk 2 orang makan kan..so semalam makcik surfing dapat lah resipi yang makcik ingin kan..as simple as 1,2,3 dan tak mengecewakan makcik.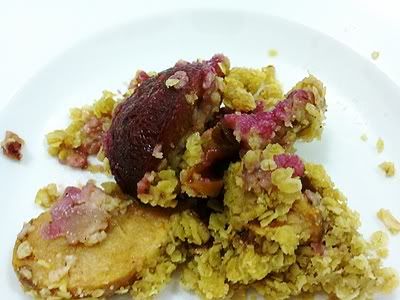 Plum Oatmeal Crisp

- credit to Everyday Food, September 2008
Irresistible desserts don't need a mile-long ingredient list or an elaborate prep -- and this tempting crisp proves it.
Ingredients ( untuk 6 orang makan)
• 1/2 cup plus 1 tablespoon all-purpose flour (spooned and leveled)
• 1 cup plus 2 tablespoons packed light-brown sugar
• 1/2 cup old-fashioned rolled oats (not quick-cooking)
• 1/4 teaspoon salt
• 1/2 cup (1 stick) cold unsalted butter, cut into small pieces
• 2 1/2 pounds ripe plums (about 8), cut into 1-inch pieces (makcik tambah apple)
(makcik guna 4 biji buah plum dan 2 biji apple - kupas~potong slices)
Directions
1. Preheat oven to 375 degrees. In a medium bowl, stir together 1/2 cup flour, 1 cup sugar, oats, and salt. Using a pastry blender or two knives, cut in butter until coarse crumbs form.
2. In a shallow 2-quart baking dish, toss plums with remaining 2 tablespoons sugar and 1 tablespoon flour; sprinkle with oat topping. Place dish on a rimmed baking sheet. Bake until topping is golden brown, 40 to 45 minutes. Let cool 20 minutes before serving