salam pagi jumaat. macam lama jer blog tak berhapdate. anyway bukan ada pun orang yang rindu kita kan. makcik agak sibuk jugalah beroutstation merapat kan silatulrahim lah gitu. then bila balik as usual kemas cuci itu dan ini. rumah pon dah agak agak jadi sarang labah labah.banyak yang berlaku dalam 2 minggu ini. parasit kat tubuh encik somi tak hilang lagi. kemudian kami like di "alarm" dengan kesihatan my second son. hari rabu lepas my favourite grandma meninggal. alhamdulilah makcik sempat berjumpa dengan arwah last weekend dan last night my kazen antar sms bad news also ~ my aunty nyer suami meninggal of brain cancer. baru jer dalam 40an. all the bad news dalam bulan ini. sungguh makcik agak lelah with this things . I mean yang dah pergi makcik redha tapi hal yang dok berulang kali berlaku ~ sakit hati. ok..next posting kalau rasa perlu i will lepas kan rasa yang terbuku di jiwa. orait here the best kek lapis cheese resipi. kalau sudi try lah. walaupun bahan nya agak mahal sket tapi selepas penat lelah melapis ~ its worth every of your peluh yang mengalir.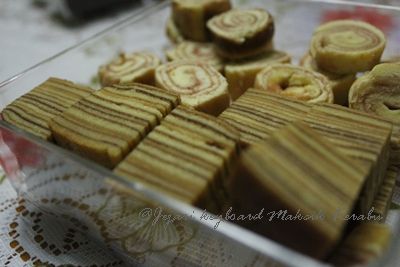 1 CAMCA TEH GARAM (OPTIONAL)
PUKUL A SEHINGGA RINGAN DAN KEMBANG
PUKUL B SEHINGGA KEMBANG DAN SEBATI
SATUKAN A + B . GAUL SEBATI
AMBIL 1 SENDUK ADUNAN DAN TUANG DALAM ACUAN. RATAKAN DAN BAKAR

API ATAS GRILL BERSUHU 250 c SELAMA LEBIH KURANG 2 MINIT ATAU SEHINGGA KEPERANGAN. AMBIL 1 SENDUK LAGI ADUNAN DAN TUANG ATAS LAPISAN PERTAMA TADI. RATAKAN DAN ULANGI LANGKAH SEHINGGA HABIS.