bila dah jalan jalan kat rumah orang kan, memang teringin lah nak mencuba sesuatu yang berlainan pula. since rima bagi comment kek ini sedap maka dengan rasa yang tidak berbelah bagi , laju jer makcik buka silat kat dapur. memang sedap kek ini. sesuai untuk orang tua yang dah senja macam bapa makcik. mesti dia suka texture kek yang ringan dan lembut sebegini. untuk rasa makcik pula, tak jauh dari nak filing cheese. gosh..sikit sikit nak buh cheese. yes..tak nak bias..apa apa yang ada rasa cheese memang akan mendapat komen positive dari makcik. untuk adunan ini setengah bahagian makcik isikan dengan cheese cream . yang tak berfiling makcik bagi kat my parent. sebab kat sini tak ada cup yang cantik cantik maka yang ada ini lah makcik gunakan. boleh jer guna walaupun fungsi nya lebih kepada kertas untuk roti atau pizza seperti yang kat kedai bakery sinun. Thumb up untuk penyumbang resipi ini. good one and the mesti cuba.
HOKKAIDO CHIFFON CUPCAKES
- Credit to Rima
Ingredients:
2 cups cake flour before sifting
1 cup sugar*
1 tbsp baking powder
1/2 tsp salt
1 cup milk
1/2 cup vegetable oil
1/2 tsp vanilla extract
5 egg yolks
8 egg whites
1/2 tsp cream of tartar (or 1/2 teaspoon lemon juice or white vinegar)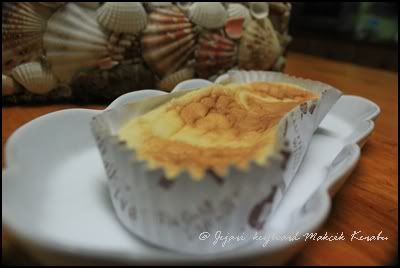 Whipped Cream Filling:
2 cups whipping cream
1/4 cup sugar
1/2 teaspoon vanilla extract
Method
1. Make sure everything is at room temperature, especially eggs and milk. Preheat the oven to 450 F.
2. Shift the cake flour together with baking powder and salt into a large mixing bowl. 3. In a medium bowl, blend well milk, oil, vanilla extract and the 5 egg yolks. 4. Add the egg yolk mixture to the dry ingredients, and beat it for about two minutes. 5. Beat the egg whites with cream of tartar on high speed until foamy, then slowly add in sugar and continue to beat until stiff peak form. (Mindy says: "Most recipes tell you to add most of the sugar to egg yolks, and only add a small amount to the egg whites, but some bloggers say that professional bakers do just the opposite. Huh! Trade secrete! I tried it today, and it worked really well!")
6. Fold the meringue into the yolk mixture in 3 parts.
7. Spoon into 24 cupcake cups evenly, give them a couple of big taps on the table to break the large air bubbles in the batter for finer texture of the cakes, and bake at 350 F for about 20 minutes. Tooth pick test for doneness. Remove from the oven, and cool on racks straight up.
8. Measure the heavy cream, sugar and vanilla into the mixing bowl, mix on high speed until medium peak form.
9. Fit the piping bag with a narrow tip, and fill it with whipped cream. Pipe the cream into center of the cupcakes after they are completely cooled or refrigerated. Dust with powdered sugar.