pernah tak u ols makan kek carrot yang buat u ols rasa nak makan pastu rasa tak nak makan tapi bila ingat nak makan lagi dan lagi dan lagi. Ini lah salah satu resipi yang makcik amik dari blog rima. Credit pada rima of Bisous atoi . murah rezeki rima sharing the best ever carrot cake.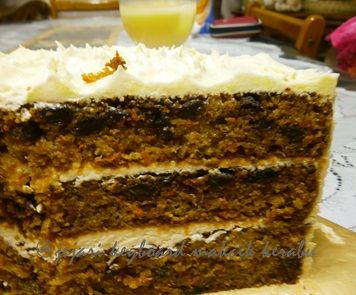 CARROT CAKE - credit kepada BISOUSATOI blog
Ingredients
Cake
1 1/2 cups granulated sugar - makcik kurangkan gula , cuma letak 1 cawan jer
1 1/2 cups oil
4 eggs
2 cups flour
2 tsp baking soda
2 tsp baking powder
2 tsp cinnamon
1/4 tsp salt
3 cups grated carrots, packed
3/4 cup walnuts (optional)
1/2 cup raisins - i added
Icing
16oz (454g) cream cheese - well softened
8 tbsp (¼ cup)(113g) butter, well softened
2 lb (900g) icing sugar
4 tsp vanilla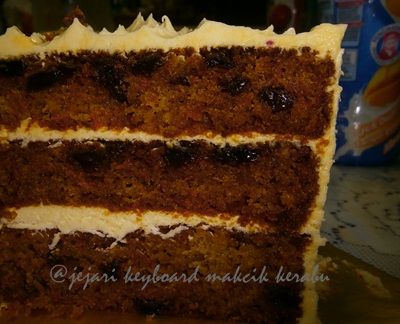 Instructions
Cake-Pre-heat the oven to 360ºF with a rack in the middle position.
Liberally grease and flour a bundt or tube pan. In a large bowl, beat together the sugar and oil. Beat in the eggs, one at a time.
In a second, medium bowl, whisk together the flour, baking powder, baking soda, cinnamon, and salt. Add the flour mixture to the sugar mix and mix in with a wooden spoon until well incorporated. Fold in the carrots and walnuts (if using).
Pour into prepared pan and bake for 45 to 60 minutes, until a toothpick inserted into the center comes out clean. Remove to a wire rack to cool completely before icing.
Icing-In a large bowl, beat together the cream cheese, butter, and vanilla until light and fluffy. Gradually beat in the icing sugar until well blended
pesan makcik, try lah kek karrot ini . sangat sedap lembut dan lembab. tak rugi mencubanya.